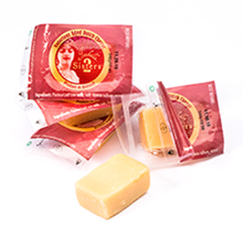 Isabella® Snack Pack
Item number 79070
Piece UPC:837787005559
Case UPC: 837787007096
Tell us what you think
Where did you find Two Sisters® - Isabella®? How did you serve it? We love to hear from you!
15 gram - Snack Packs
Two Sisters® - Isabella®
Individually wrapped in bite size packaging. Portable, No preservatives, only Natural ingredients. Isabella® is like a buttery aged Gouda but nuttier and sweeter. It goes well with both red and white wines. Offering a true indulgence for the genuine cheese connoisseur. Bring this treat with you to work or out traveling.
Snack sizes also available in our KoKos® - Coconut Cheese, and Honey Bee Goat®.
Ingredients & Nutrition Facts
Ingredients: Pasteurized cow milk, salt, cheese culture, starter cultures, animal rennet.
Nutrition Facts: Serving Size 15g (1 Piece) Amount/Serving: Calories 63, Fat Cal. 41, Total Fat 5g (8% DV), Sat Fat 3g (15% DV), Trans Fat 0g (0% DV), Cholesterol 16mg (5% DV), Sodium 87mg (4% DV), Total Carb. 0g (0% DV), Fiber 0g (0% DV), Sugars 0g, Protein 5g, Vit A 0%, Vit C 0%, Calcium 13%, Iron 0%.
*Percent of daily values (DV) are based on a 2000 calorie diet.
Tell us what you think