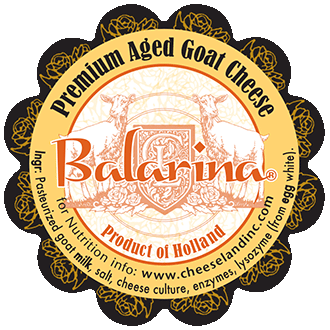 Balarina®
Item number 2123
UPC 837787002138

Aubergine with Aged Goat Cheese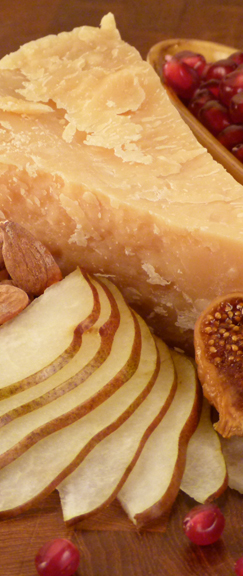 Serving Tips
Tell us what you think
Where did you find Balarina®? How did you serve it? We love to hear from you!
Premium Aged Goat Cheese
Balarina®
Two time gold medal winner of the World Cheese Championship. This artisan cheese has been aged for over four years in our select Dutch aging rooms. It has a stunning complex flavor. It is nutty with flavors of caramel. This cheese adds a great touch when grated over spinach salad, pizza or pasta. It also makes fabulous risotto and omelets.
Ingredients & Nutrition Facts
Ingredients: Pasturized goat milk, salt, cheese cultures, vegetarian rennet.
Nutrition Facts:
Servings per container varies:
Serving Size 1oz (28g)
% Daily Value*
---
Total Fat 10g
12%
---
---
---
Cholesterol 30mg
10%
---
Sodium 210mg
9%
---
Total carbohydrate 0
0%
---
---
Total Sugars 0g
---
Included 0g Added Sugars
---
Protein 8g
15%
Vitamin D
0%
---
Calcium 246mg
19%
---
Iron
0%
---
Potassium 28mg
0%
*The Daily Value (DV) tells you how much a nutrient in a serving of food contributes to a daily diet. 2,000 calories is used for general nutrition advice.
Recipes
Aubergine with Aged Goat Cheese
3 large firm aubergines
1 jar of good quality plain tomato sauce
4 large handfuls of freshly grated Balarina cheese
sea salt and freshly ground black pepper
2 handfuls of dried bread crumbs (optional)
a little fresh oregano, leaves chopped
1. First things first: remove the stalks from the eggplant, slice them into 1inch thick slices set aside on broiling rack.
2. Heat your oven broiler.
3. Broil the aubergine(eggplant) on both sides until slightly charred - you may have to do them in batches as they probably won't all fit in the broiler pan at once. As each batch is finished, remove them to a tray and carry on grilling the rest until they're all nicely done.
4. While the eggplant is broiling; heat the sauce over low heat and set aside.
5. Get yourself an earthenware type dish, or a medium sized cast iron skillet. Put a small layer of tomato sauce, then a thin layer of Balarina, followed by a single layer of aubergines (eggplant). Repeat these layers until you've used all the ingredients up. It's nice to toss the breadcrumbs with a little freshly topped oregano and sprinkle them on top of the Balarina.
6. Place the dish in the oven and bake at 375° F or 190° C. for 30 mins. until golden brown, crisp and bubbly. It's best eaten straight away, but it can also be served cold. You can use the same method substituting courgettes or fennel for the aubergines - both are delicious. But do try making it with aubergines - you'll love it!
More Balarina® Recipes:
Peruvian Scallops, Balarina® Aubergine
Serving Suggestions
Main Course, Appetizer or Dessert
Substitute Balarina® in any recipe for Parmesean and turn your meal into a gourmet treat.
This cheese adds a great touch when grated over spinach salad, pizza or pasta. It also makes fabulous risotto and omelets.
For an easy and satisfying appetizer, thinly slice a baguette and the Balarina® Aged Goat cheese, then add your favorite spreads. Try green or black olive tapenade, roasted red pepper spread, baba ganoush, aioli or hummous. Cut the bread, add a thin layer of your favorite spread and top it with cheese. Toast them briefly into an oven to warm, slightly melting the cheese. Serve with a garnish of cucumber slices, peperoncinis, olives and cherry peppers.
Beverage match
Pear juice, apple cider, Sauvignon Blanc or your favorite white wine.
Tell us what you think