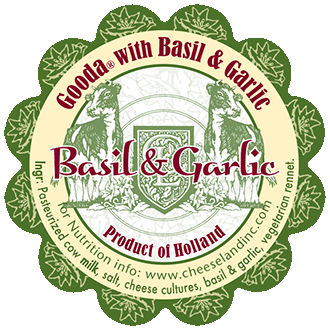 Gooda® with Basil and Garlic
Item number 2005
UPC 837787002053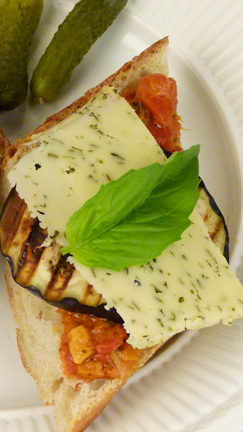 Grilled Eggplant Sandwich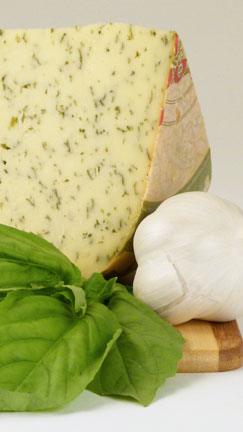 Serving Tips
Tell us what you think
Where did you find Gooda® with Basil and Garlic? How did you serve it? We love to hear from you!
Mild Cheese with a seasoning Basil & Garlic
Gooda® with Basil and Garlic
This creamy smooth cheese has been delicately seasoned with basil and garlic. The slightly higher fat content gives the cheese a richer flavor and creamier texture. It's a Gooda® style cheese, so it is easy to melt, grate or slice. Great on bagels and in omelets.
Ingredients & Nutrition Facts
Ingredients: Pasturized cow's milk, salt, basil, garlic, cheese cultures, vegetarian rennet.
Nutrition Facts:
Servings per container varies:
Serving Size 1oz (28g)
% Daily Value*
---
Total Fat 9g
11%
---
---
---
Cholesterol 20mg
8%
---
Sodium 230mg
10%
---
Total carbohydrate 0
0%
---
---
Total Sugars 0g
---
Included 0g Added Sugars
---
Protein 6g
13%
Vitamin D
0%
---
Calcium 228mg
20%
---
Iron
0%
---
Potassium 28mg
0%
*The Daily Value (DV) tells you how much a nutrient in a serving of food contributes to a daily diet. 2,000 calories is used for general nutrition advice.
Recipes
Grilled Eggplant Sandwich
baguette or favorite bread
eggplant
red pepper tapenade 
tomato, sliced
olive oil
Gooda® with Basil & Garlic - thinly sliced
1. Thinly slice eggplant, brush with olive oil, grill and set aside
2. Cut bread open and toast lightly, add red pepper tapenade to each piece
3. Lay on the grilled eggplant, tomato slices and slices of Basil & Garlic Cheese
Serving Suggestions
Main Course
Try something different add an exciting twist to your family's favorite recipes: make your next mac 'n cheese or tuna casserole using grated Gooda® with Basil & Garlic instead of cheddar! Spice up an omelette, put it in tacos, try it in potatoes au gratin, or melted on meatloaf... make a tasty cheese sauce for noodles, or toss it into a green salad with fresh tomatoes. There's no end to the fun you can have with this lively and flavorful cheese!
Beverage match
Orvieto Classico, Pino Grigio or other crisp, aromatic Italian white wines.
Tell us what you think