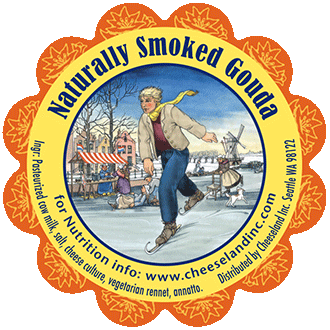 Naturally Smoked Gouda
2/5lb Item number 9995
UPC 837787009953

1/10lb Item number 9990
UPC 837787009908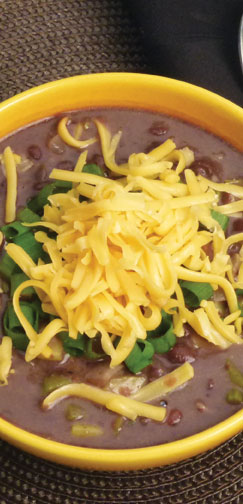 Black Bean Soup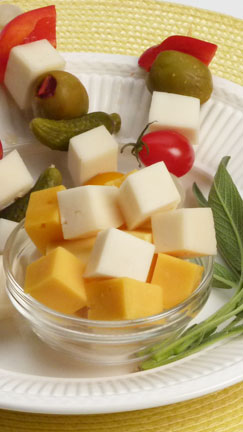 Serving Tips
Tell us what you think
Where did you find Naturally Smoked? How did you serve it? We love to hear from you!
Smoked Gouda
Naturally Smoked Gouda
This cheese is naturally smoked with real oakwood chips using a cold smoke technique - no artificial ingredients, flavoring or processing are used! It's creamy, smooth, mellow and lightly smoky, slices well and melts beautifully. Ideal for BBQ Parties, melted on steaks or burgers. It's a perfect complement to meats and cold cuts, delicious with mustard.
Ingredients & Nutrition Facts
Ingredients: Pasturized cow's milk, salt, cheese cultures, vegetarian rennet.
Nutrition Facts:
Servings per container varies:
Serving Size 1oz (28g)
% Daily Value*
---
Total Fat 8g
10%
---
---
---
Cholesterol 31mg
10%
---
Sodium 230mg
10%
---
Total carbohydrate 0
0%
---
---
Total Sugars 0g
---
Included 0g Added Sugars
---
Protein 7g
14%
Vitamin D
0%
---
Calcium 196mg
15%
---
Iron
0%
---
Potassium 33mg
0%
*The Daily Value (DV) tells you how much a nutrient in a serving of food contributes to a daily diet. 2,000 calories is used for general nutrition advice.
Recipes
Black Bean Soup
1 can black beans
1 carrot
1 chopped onion
1 stalk of chopped celery
1 vegetable bullion cube
2 cups (16 oz) of chicken or vege broth
1/4 cup (2 oz) Sherry (to taste)
Shredded Naturally Smoked Gouda
Cilantro or green onion chopped to sprinkle on top
1. Pour beans into colander and rinse with cold water until bubbles are gone.
2. Mash 2/3 of the beans, cut the carrot into thin slices.
3. Saute the carrots in the soup pot with olive oil.
4. Add the chopped onion and chopped celery.
5. When the vegetables are soft, remove the pan from the heat.
6. Add the bullion cube, let it dissolve (or smash it with a wooden spoon).
7. Add several cups of broth or water to taste.
8. Add all the black beans & the Sherry.
9. Simmer for about 5 min. to meld the flavors.
10. Set out individual soup bowls.
11. Place shredded cheese in the bottom of the bowl.
12. Ladle hot soup into the bowls.
13. Garnish with cilantro or chopped green onion and serve.
More Naturally Smoked Gouda Recipes:
Burger, Smokey Ham & Apple Grilled Cheese, Black Bean Soup
Serving Suggestions
Appetizer & Main Course
Take Naturally Smoked Gouda to your next BBQ Party, try it melted on steaks or burgers. It's a perfect complement to meats and cold cuts, delicious on any sandwich.
Try a traditional Dutch appetizer and place it on a skewer with cold cuts and pickles
Beverage match
Enjoy with a local dark beer or go Dutch and tast it with a Heinekin.
Tell us what you think